Spider 3D Printed Guitar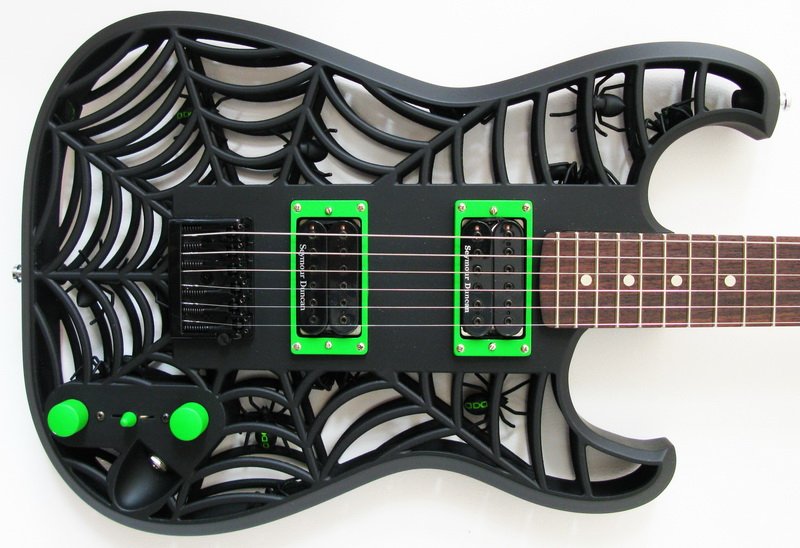 Spider 3D Printed Guitar
The Spider 3D printed guitar: A guitar with a spiderweb motif and spiders on the inside. The bodies are printed, using Selective Laser Sintering, by 3D Systems, on an sPro 230 SLS system. The material being used for these guitars is Duraform PA which is a very strong form of Nylon. The resolution for the prints was 0.1mm (which means that each layer that makes up the guitar body is 0.1mm thick).
The guitars feature a wooden inner core (choices of Mahogany or Maple, etc.) that links the neck to the bridge, which allows us to customize the sustain and tone of the instrument to suit the musician, and a number of options for hardware, etc.
American Graffiti 3D printed Guitars
Neck : Warmoth Pro Warhead maple neck with rosewood fret board, 22 frets, 25 1/2″ scale, 1 11/16″ width Earvana tuning compensated nut, 6150 sized jumbo frets, 10-16″ compound radius fret board, mother of pearl inlay dots
Body : 3D printed Duraform PA outer body, with maple inner core, Custom paint job, and sprayed with matt satin lacquer
Bridge : Schaller 475, 6 String Flat Mount Bridge, Chrome
Pickups : Seymour Duncan Full Shred humbuckers.
Tuning Heads : Gotoh Mini 510 Locking Tuners, Chrome
Controls : 5 position Pickup select switch, 1 x Volume knob, 1 x Tone knob
Other : Schaller Strap Locks, D'Addario strings,
Weight : 3.4Kg
Previous